Our Link
https://smile.amazon.com/ch/32-0289909
Your organization has a unique charity link that directs your supporters to shop at smile.amazon.com and generate donations for your organization. We encourage you to share this link and ask your supporters to bookmark it so all their eligible shopping will benefit your organization: https://smile.amazon.com/ch/32-0289909
How does AmazonSmile work?
When first visiting AmazonSmile, customers are prompted to select a charitable organization from over one million eligible organizations. In order to browse or shop at AmazonSmile, customers must first select a charitable organization. For eligible purchases at AmazonSmile, the AmazonSmile Foundation will donate 0.5% of the purchase price to the customer's selected charitable organization.
NOTE: 
There are other Hero's Journey organizations. Ours is the one with the registered trademark, located in Pittsburgh!!! It's the top of the list.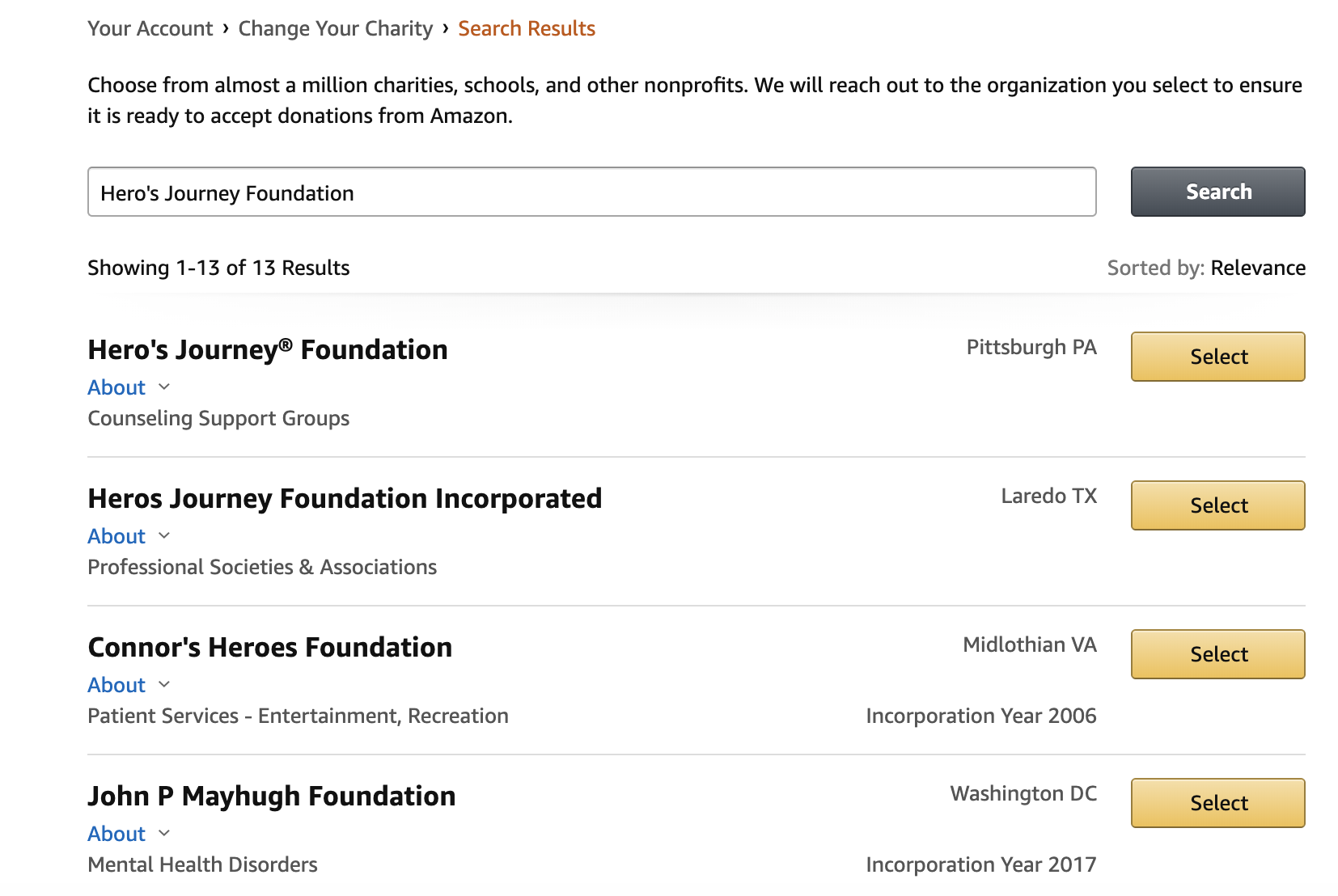 Info for HJF
What is the AmazonSmile Foundation?
The AmazonSmile Foundation is a 501(c)(3) private foundation created by Amazon to administer the AmazonSmile program. All donation amounts generated by the AmazonSmile program are remitted to the AmazonSmile Foundation. In turn, the AmazonSmile Foundation donates those amounts to the charitable organizations selected by our customers. Amazon pays all expenses of the AmazonSmile Foundation; they are not deducted from the donation amounts generated by purchases on AmazonSmile.
———————-
If you have any difficulty, you can call our AmazonSmile Charity Support office directly at 888-282-0536. Please have your organization's EIN 32-0289909 ready to reference if you call. We are available Mon-Fri, 8am-5pm, PST.
Our Contact: Sueanne charity-support@amazon.com
anna login: https://org.amazon.com